Oswego, NY
---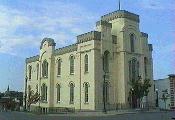 Oswego, NY was the center of Gerrit Smith's most valuable land holdings, from which he derived an estimated average of $60,000 per year during the 1850's. In 1855 he made a grant of $25,000 to the city for the building of a library, pictured here. His requirements for the gift were that it be constructed on the East side of the river, where his major holdings were, and that it be open to all persons, regardless of race, color or sex.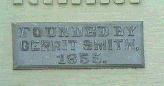 The library is home to a uniqure portrait of Smith, pictured below, which is unfortunately located in a spot that is difficult to photograph, particularly by artifiicial light. The exterior of the building also bears a marker reading: "Founded by Gerrit Smith, 1855."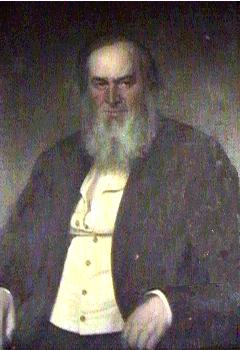 For several years Smith's brother, Peter Skenandoah Smith, managed his business affairs on Oswego. Also in business there were members of the Fitzhugh family, Smith's in-laws. The older brother practiced law, and managed the initial development of a canal on the East bank of the river, that supplied water and power to mills that developed on the site. In later years his affairs in Oswego were managed by John B. Edwards, who took Smith as something of a mentor in business as well as philosophy. It was left to Edwards to make good on Smith's gift of the City Library, from the profits of Smith's investments there.
In addition to his profitable land holdings, Gerrit Smith used his operations at Oswego to assist his avocation of assisting fugitived from slavery to reach Canada. Because Oswego is a river port on Lake Ontario, it was frequently a point of embarkation for persons leaving for Canada. Efforts are being made to collect more information on the Underground Railroad activities in this area for presentation on this site.
---